Please start first by reading the measuring information and gathering all the tools you will need to complete the measuring. Read the Measuring instructions before you begin filling out the ORDER FORM.
How to Determine Step Location
Measurement of step location is determined by standing in the shallow end facing the deep end of the pool.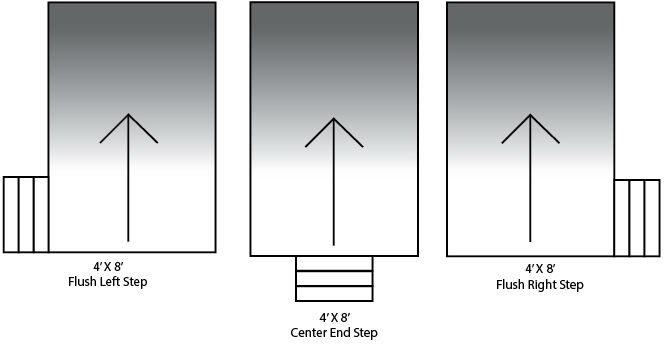 Print this form, complete it and fax or mail it to us.
Download the safety cover installation manual
Download
Watch Our Video of Measuring Instructions
We have prepared a video to assist you in the proper measuring of your pool and any add-ons you may have.
Watch Our Video of Installation Instructions
We have prepared a video to show you the proper installation of your cover.
PLEASE NOTE:
Our video states 1" Bit, please make sure you follow the DRILL BIT SIZE CHART below for the Type of Anchor you have.
DRILL BIT SIZE CHART:
| | | |
| --- | --- | --- |
| Anchor | Drill Bit Size | Type |
| Std. Brass Anchor | 3/4" | Masonry Bit |
| Lawn Tube | 1" | Core Bit |
| Deck Tube | 1-1/8" | Core Bit |
What You Need
Measure Forms
100 ft. fiberglass tape
Bucket of kids colored sidewalk chalk
Two 3 ft. lengths of threaded rod or re-bar
Polaroid or digital camera
Pen and note paper
Big hammer
Duct tape
Tips for Getting the Perfect Fit
Write all measurements clearly.
Check your measurements twice
Measuring Instructions
Begin with a freehand sketch indicating inside pool dimensions. The sketch should include pool orientation and the "A-B" line location. Include deck area, and any obstructions within 3' of the waterline. A photo of the pool is needed when rocks, spas, or anything out of the ordinary exists. It's recommended to take pictures of the numbered points at obstructions.
Establish two points, "A-B" with "A" on the left as shown. The "A-B" line must be 3' away from the pool and 2/3 the length of the poo; 20'-25' is typical (shown on the sketch). To mark "A-B" points on deck - use chalk marks, on ground - use stakes in the dirt. Do no remove the "A-B" points until the measurements have been confirmed and approved. NOTE: The "A-B" line must never cross the pool line and should be approximately 3' away from the pool at the closest point (4' to 5' away from pools over 44' long).
Using chalk, mark the number points along the inside edge of the pool at approximately 2' intervals. Number all corner points, ladders, handrails, grabrails, slide legs, rocks, spillways, spa walls separating spa and pool, fill spout and dive stand. 1' intervals should be used in small or tight radius areas. At least 3 points along straight walls.
Measurements are now taken from point "A" to #1, then to #2, and all the way around the pool. Then measure from point "B" to same point #1 and then #2, as you did for point "A". Measurements are listed in column format as shown.
Take measurements between two known points to determine length and width cross dimensions of the pool. Cross dimensions to any raised beam obstacles are recommended.